Listen to the radio show "Dr. Dawn on Careers"    (Your Personal Career Coach!)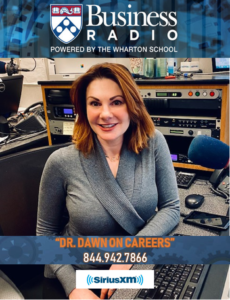 Looking for a new job? If you can't get in front of the decision-makers, your skills and expertise won't matter.
The best career plan is to be proactive, whether or not you are currently looking for a new job. Tune in to my weekly radio show on SiriusXM 132, call if you have a question (844.942.7866), and listen in as I advise others.
Each Thursday, "Dr. Dawn on Careers" is LIVE and my personal mission is to help my listeners succeed in meeting their career goals, and not to settle for anything less.
Can't tune in? My weekly show is available any time on podcast. Get advice on the latest trends in networking, using LinkedIn to your advantage, resume preparation, personal branding, interview tips, salary negotiations, and many other topics. Hear from my expert guests and me every week on the current market and how to use this information to your professional advantage.
Even if you hate the hiring game, I can teach you how to play to win!
Listen on SiriusXM Radio Channel 132

Or subscribe to Dr. Dawn on Careers podcast FREE on iTunes, Player.fm, Pippa.io, Google Podcasts, or wherever you listen to podcasts.
---
Have questions for Dr. Dawn? Call the show LIVE on Thursday from 12pm – 1pm EST at 1-844-942-7866 or email your questions to businessradio@siriusxm.com.